If you are studying in the Alamance-Burlington Schools then here we have shared a school calendar for you. Download Alamance-Burlington Schools Calendar from here in a pdf format to keep a check on the academic dates, events, and holidays. With the help of a school calendar, you can keep a plan of your schoolwork activities as well. Planning and management of school work become easier once you have a well-made work or school calendar with you. As a student, you must give proper time to work planning, small-time invested in planning activity will yield great results in the future. Not only students, but teachers should download the calendar as well for managing their schedules.
This page is loaded with the major holiday dates and school calendar of the Alamance-Burlington Schools for the year 2021-2023.
Alamance-Burlington School Holidays 2022-2023
Keep a check on the major holidays to plan them well. Holidays are meant for fun and creative work. Check out the table below to keep a check on the major holiday dates of the Alamance-Burlington Schools for the year 2022-2023.
Please note that these are the major holidays from the PROPOSED CALENDAR. We will update the approved holidays here once the approved calendar is available.
School Holidays
Starts
Finishes
First Day of School
Mon, 29th Aug 2022
Thanksgiving Break
Wed, 23rd Nov 2022
Fri, 25th Nov 2022
Christmas Break
Mon, 19 Dec 2022
Mon, 2nd Jan 2023
Spring Break
Fri, 7th Apr 2023
Fri, 14th Apr 2023
Last Day of School
Fri, 9th Jun 2023
Alamance-Burlington Schools Calendar 2022-2023
Below you can see a preview or image of the Alamance-Burlington Schools Calendar for the years 2022 and 2023. You can download this calendar in a pdf format by clicking on the link shared below. Do check out the main website of the school for all the latest updates and notifications.
Note: This is the PROPOSED CALENDAR, we will update the preview of the Approved Calendar here once it's available.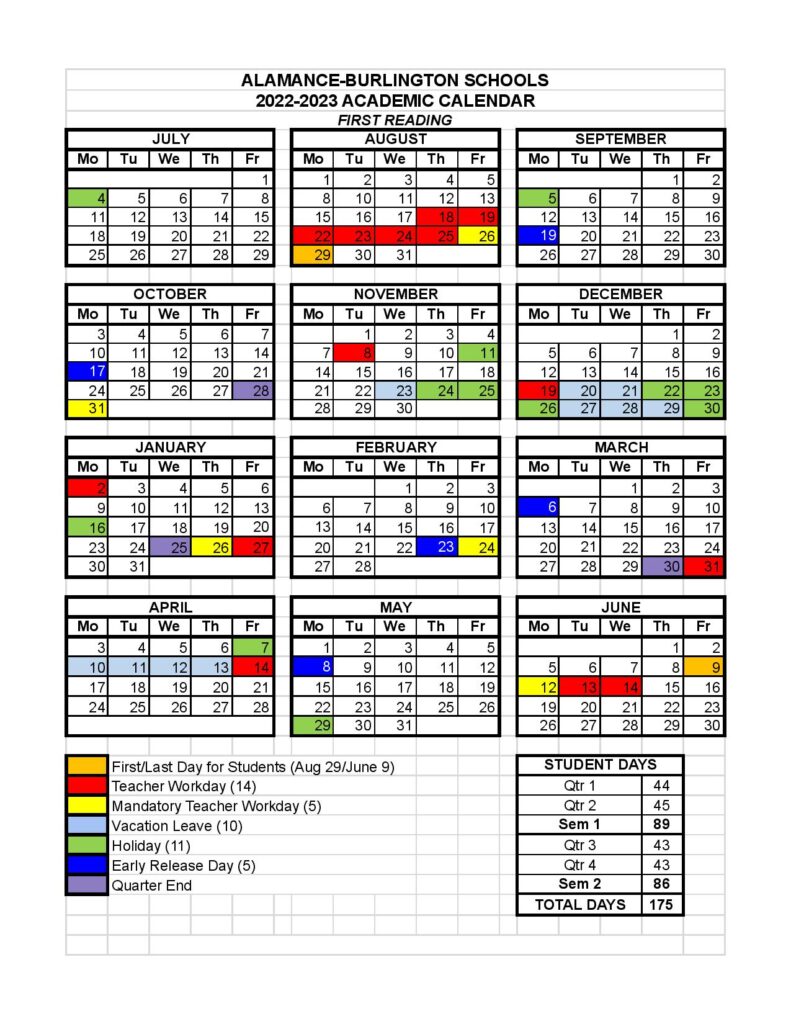 Important Links
Calendar Link: Download Calendar in PDF
School Website: https://www.abss.k12.nc.us/
It is also important to note that this is not an official website of any school. This is just an informational website that provides holiday information and school calendars. Please visit the official website of your school for more information.