Addison Central School District is one of the greatest schools in New York. They always focus on their students and try to increase their skills and make them confident. They always establish positive relationships in the school between students and teachers in order to provide a good learning environment and educational opportunities that promote lifelong learning for the students.
A calendar plays a very important role in managing school life because, with the help of a calendar, you can easily plan all your study routes. Here we provide you with the Addison Central School District Calendar for the sessions of 2023 and 2024. You can easily download the calendar below in PDF and JPEG formats, and after downloading the calendar, you can also take out the printout, and then you can easily start using the calendar.
Addison Central School District Holidays 2023 and 2024
Check out the table below to keep a check on the major holiday dates of the Addison Central School District. It is important to note that you can only see the major holiday dates, refer to the full school calendar for complete details.
School Calendar 2023-2024
School Holidays
Starts
Finishes

First Day of School

6 Sep 2023
(Wed)

Thanksgiving Break

22 Nov 2023
(Wed)
24 Nov 2023
(Fri)

Christmas Break

22 Dec 2023
(Fri)
1 Jan 2024
(Mon)

Mid Winter Break

19 Feb 2024
(Mon)
23 Feb 2024
(Fri)

Easter Break

29 Mar 2024
(Fri)
1 Apr 2024
(Mon)

Spring Break

22 Apr 2024
(Mon)
26 Apr 2024
(Fri)

Last Day of School

25 Jun 2024
(Tue)
Addison Central School District Calendar 2023 and 2024 in PDF
Below you can see a Addison Central School District Calendar preview or image. Download this calendar in a PDF and JPG format by clicking on the link shared below. Make sure to check out the official website of the school to keep yourself updated about latest modification or revision in a school calendar.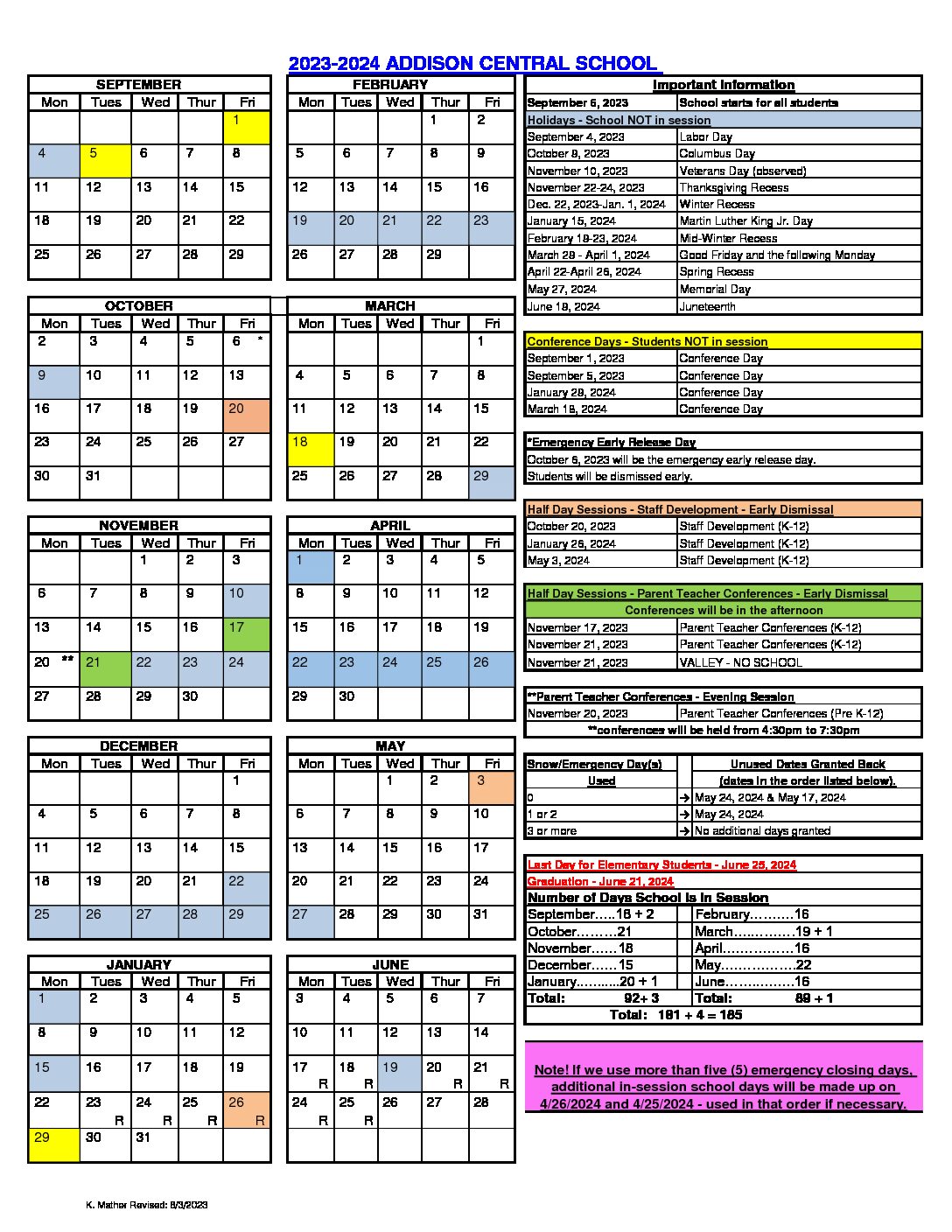 Official Link 2023-2024: Download Calendar Here
Official Website: https://www.addisoncsd.org/
It is also important to note that this is not an official website of any school. This is just an informational website that provides holiday information and school calendars. Please visit the official website of your school for more information.