Alachua County Public Schools is one of the best schools in Florida, and they always give their best to enhance the students skills. This school not only focuses on study but also on extracurricular activities and events so that students can increase their confidence and enhance their ability to improve in front of everyone. These things help them in their future, and they can build a good future.
If you want to do well in every activity in school, like exams, events, and extracurricular activities, then you must know in advance all the important dates, and this can only be possible if you are using the school calendar. Here we offer you the school calendar for the session of 2023-2024. You can download it in PDF and JPEG formats. As a student, if you bring a calendar with you, it will help you plan all your work and activities according to the important dates. In this way, you not only do well in your academics, but you also perform well in all the extracurricular activities.
Alachua County Public Schools Holidays 2023-2024
Check out the major holiday dates of the Alachua County Public Schools Calendar 2023 and 2024 from the table shared below. It's essential to keep a check on the upcoming holidays in order to plan or manage them in the best way. Use a holiday calendar to make the maximum out of each holiday.
School Calendar 2023-2024
School Holidays
Starts
Finishes

First Day of School

10 Aug 2023
(Thu)

Thanksgiving Break

20 Nov 2023
(Mon)
24 Nov 2023
(Fri)

Christmas Break

21 Dec 2023
(Thu)
5 Jan 2024
(Fri)

January Break

12 Jan 2024
(Fri)
15 Jan 2024
(Mon)

Mid Winter Break

16 Feb 2024
(Fri)
19 Feb 2024
(Mon)

Spring Break

11 Mar 2024
(Mon)
15 Mar 2024
(Fri)

Last Day of School

31 May 2024

(Fri)
Alachua County Public Schools Calendar 2023 and 2024
Below you can check out a calendar preview or image of the Alachua County Public Schools Calendar for the academic year 2023-2024. The links of the official website of the school and this calendar are shared in the next section. Check out the links below to download this calendar in a pdf format. Make sure to keep a check on the official website of the school because all the modification or revisions in a calednar will be updated there, if any.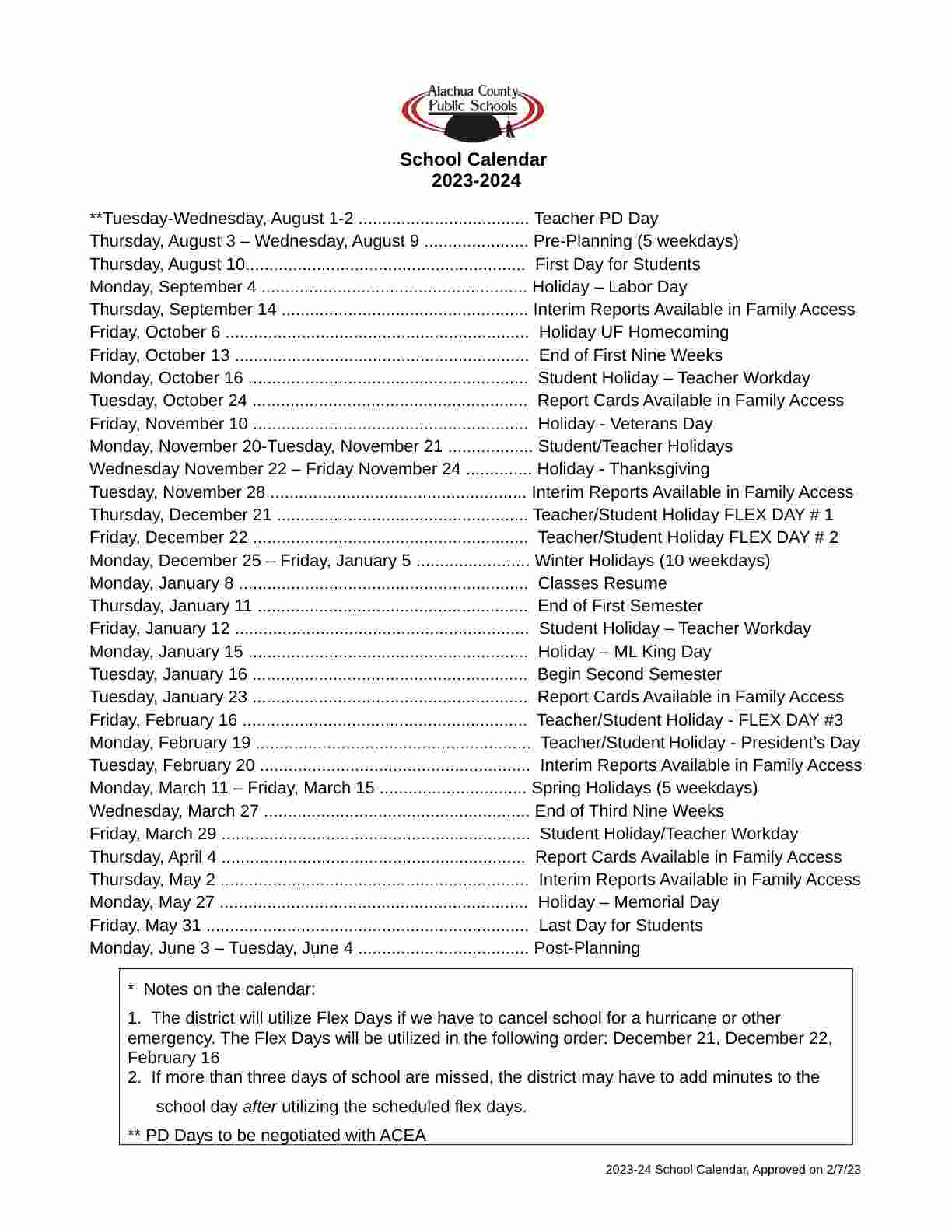 Official Link 2023-2024: Download Calendar Here
Official Website: https://www.sbac.edu/
It is also important to note that this is not an official website of any school. This is just an informational website that provides holiday information and school calendars. Please visit the official website of your school for more information.