Appling County School is one of the biggest schools in Georgia. They have three elementary schools, one middle school, and one high school. They currently have around 4000 students in their school. They not only focus on academic exams, but they also motivate the students to do well in other activities like sports, events, and extracurricular activities.
If you are studying in the Appling County School District and looking for the calendar for 2023 and 2024, then you are in the right place. Here we offer you the school calendar, and you can download the calendar in PDF and JPG formats. A school calendar is a very important document that every student and teacher must have. In the calendar, all the details related to the academic exams, sports events, art events, and extracurricular activities are included. Download the calendar and start using it for your bright future.
Appling County School District Holidays 2023 and 2024
Keep a check on the Appling County School District major Holiday dates through the table below. Holidays are an important part of a student's life. Make the maximum out of each holiday by planning it well.
School Calendar 2023-2024
School Holidays
Starts
Finishes

First Day of School

4 Aug 2023
(Fri)

Thanksgiving Break

20 Nov 2023
(Mon)
24 Nov 2023
(Fri)

Christmas Break

20 Dec 2023
(Wed)
5 Jan 2024
(Fri)

Mid Winter Break

16 Feb 2024
(Fri)
19 Feb 2024
(Mon)

Spring Break

29 Mar 2024
(Fri)
5 Apr 2024
(Fri)

Last Day of School

24 May 2024
(Fri)
Check the Appling County School District Calendar 2023 and 2024 in PDF and JPG
Check out the links in the next section to download a school calendar. You can take a print-out of the calendar for your use. Do check out the main website of the school for the latest updates and notifications related to the school calendar.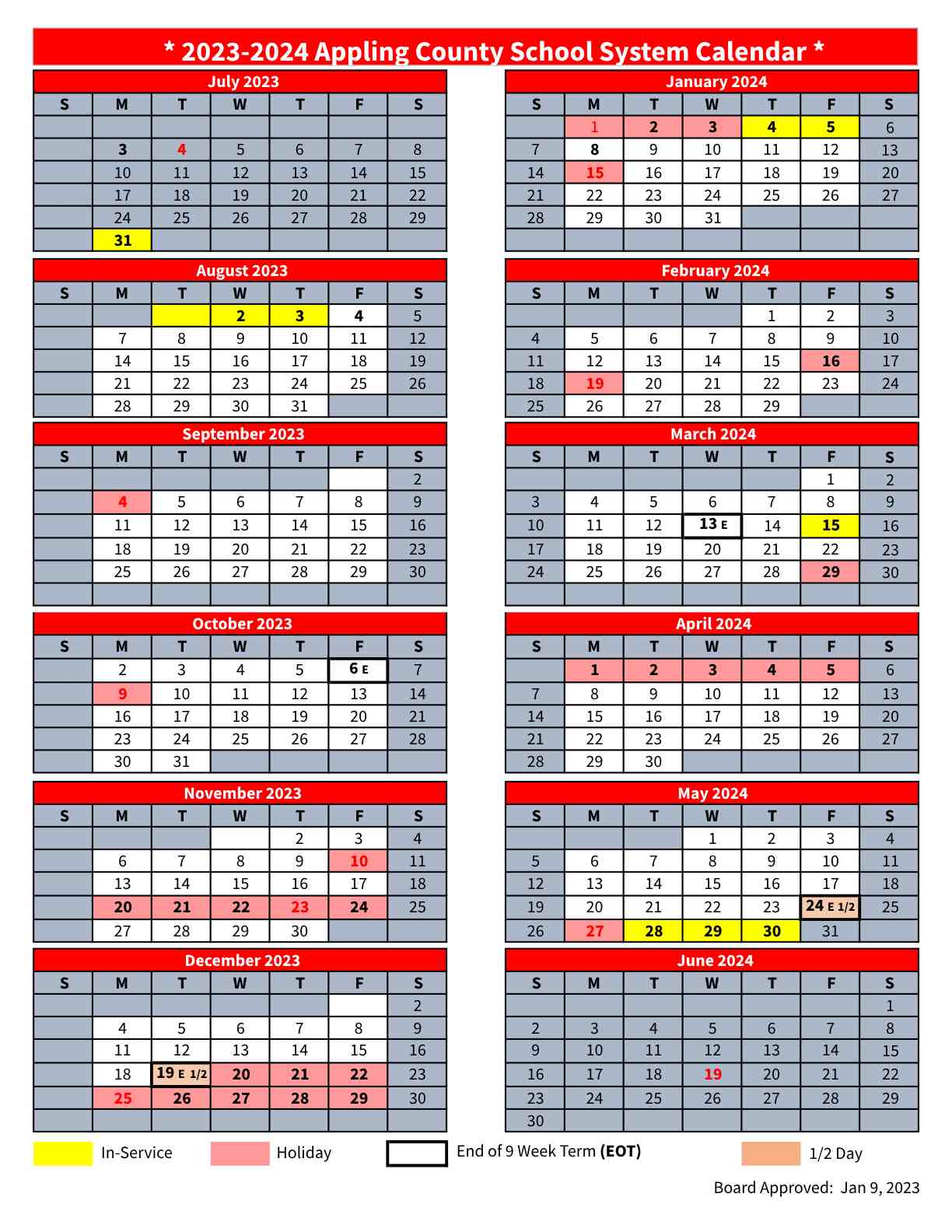 Official Link 2023-2024: Download Calendar Here
School Website: https://www.appling.k12.ga.us/
Important Note: Due to the Global Health Crisis in 2020, a large number of Schools have announced for the School closures. Please check with your School coordinator through Phone/ Email.
It is also important to note that this is not an official website of any school. This is just an informational website that provides holiday information and school calendars. Please visit the official website of your school for more information.