Berrien County School is one of the great schools in Georgia. The reason for the popularity of Berrien County School is that they always focus on providing a better learning environment for the students. This helps in the better development of the students. They always give the opportunity to the students today for an excellent tomorrow.
As a student, for better learning and to do well in all events, you must use the school calendar. In the school calendar, all the details related to the academic exams, sporting events, school holidays, and other extracurricular activities are mentioned. If you know about these events that will happen in the future, then you can easily plan all your work routein. Below, you can find the Berrien County School Calendar for the sessions of 2023 and 2024. Download these calendars in PDF and JPG formats. 
Berrien County School Holidays 2023 and 2024
Check out the table below for major holiday of this academic year. Please note , the table only specify the major holiday dates. For a complete calendar, you need to check out the calendar shared below along with links to download it.
School Calendar 2023-2024
School Holidays
Starts
Finishes

First Day of School

7 Aug 2023
(Mon)

Fall Break

9 Oct 2023
(Mon)
10 Oct 2023
(Tue)

Thanksgiving Break

20 Nov 2023
(Mon)
24 Nov 2023
(Fri)

Christmas Break

20 Dec 2023
(Wed)
8 Jan 2024
(Mon)

Mid Winter Break

19 Feb 2024
(Mon)
20 Feb 2024
(Tue)

Spring Break

1 Apr 2024
(Mon)
5 Apr 2024
(Fri)

Last Day of School

24 May 2024
(Fri)
Berrien County School Calendar 2023 and 2024
Here is the complete calendar of Berrien County School Calendar for the academic year 2023-2024. Check out the links below to download this calendar in a pdf format. Please note that for any modification or amendments, you need to regularly check the official website of the school (the link is shared below.)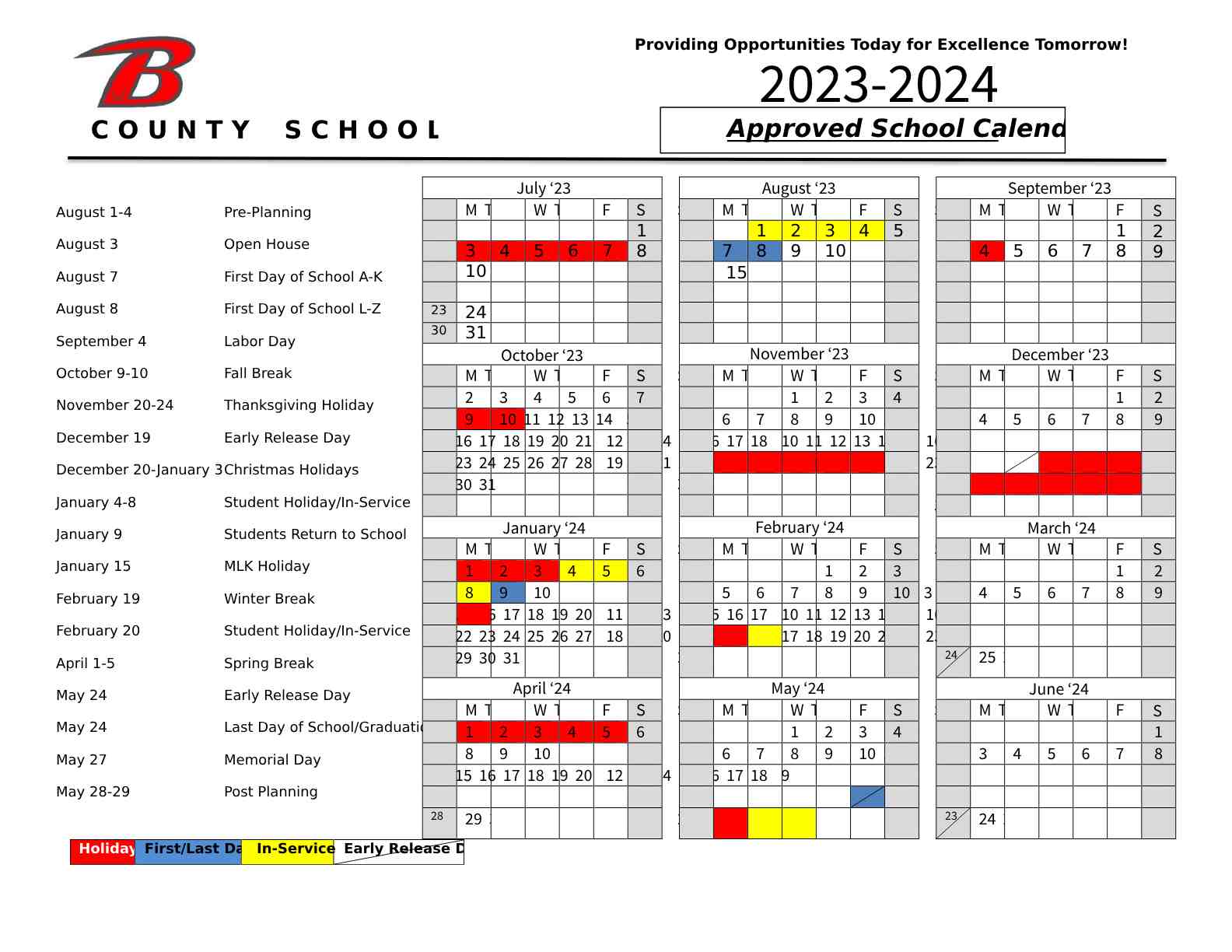 Important Information
Official Link 2023-2024: Download Calendar Here
Official Website: https://www.berrienschools.org/
It is also important to note that this is not an official website of any school. This is just an informational website that provides holiday information and school calendars. Please visit the official website of your school for more information.