Forsyth County School Calendar is available for the academic year 2020-2021. If you are here looking for the Forsyth County School Calendar then this is the correct platform to be at. As a student, the first thing you should check is the school calendar in order to keep yourself updated about holidays and other important details. Not only students but also teachers should keep a proper check on the calendar. As per the calendar available, the first day of the school is August 6, 2020, and the last day is May 26, 2021. For more details, you need to check the calendar below. All the important details are available there. We have also shared an official link from where you can easily download a calendar.
As a student, you should always plan your academic work in order to perform well academically. Keep a check on the school calendar to know about holidays, the start of the semester, the end of the semester, etc. Below we have shared Forsyth County School Calendar 2020-2021, download, or take the print-out of a calendar.
Forsyth County School Calendar 2020-2021
Please note that we have not mentioned non-student days such as teachers' preparation days, teachers' services days, and professional development days into the dates below. You need to check out the calendar link below for full, original school calendar.
| | | |
| --- | --- | --- |
| School Holidays | Starts | Finishes |
| First Day of School | Thu, August 06, 2020 | |
| Fall Break | Mon, Sep 21, 2020 | Fri, Sep 25, 2020 |
| Thanksgiving Break | Mon., Nov 23, 2020 | Fri, Nov 27, 2020 |
| Winter Break | Wed, Dec 23, 2020 | Tue, Jan 05, 2021 |
| Mid-Winter Break | Fri, February 12, 2021 | Tue, February 16, 2021 |
| Spring Break | Mon., Apr 05, 2021 | Fri., Apr 09, 2021 |
| Last Day of School | Wed, May 26, 2021 | |
Make sure to check the Forsyth County Schools website for their 2020-2021 approved calendar. All the updates or modifications in the calendar will be updated there only.
Forsyth County School Calendar 2020-2021
Here is the official calendar, below you can see an image of the calendar. The official link to download the pdf of this calendar is available below the calendar image/preview. Keep a check on all the important events, holidays in an academic year using the school calendar below.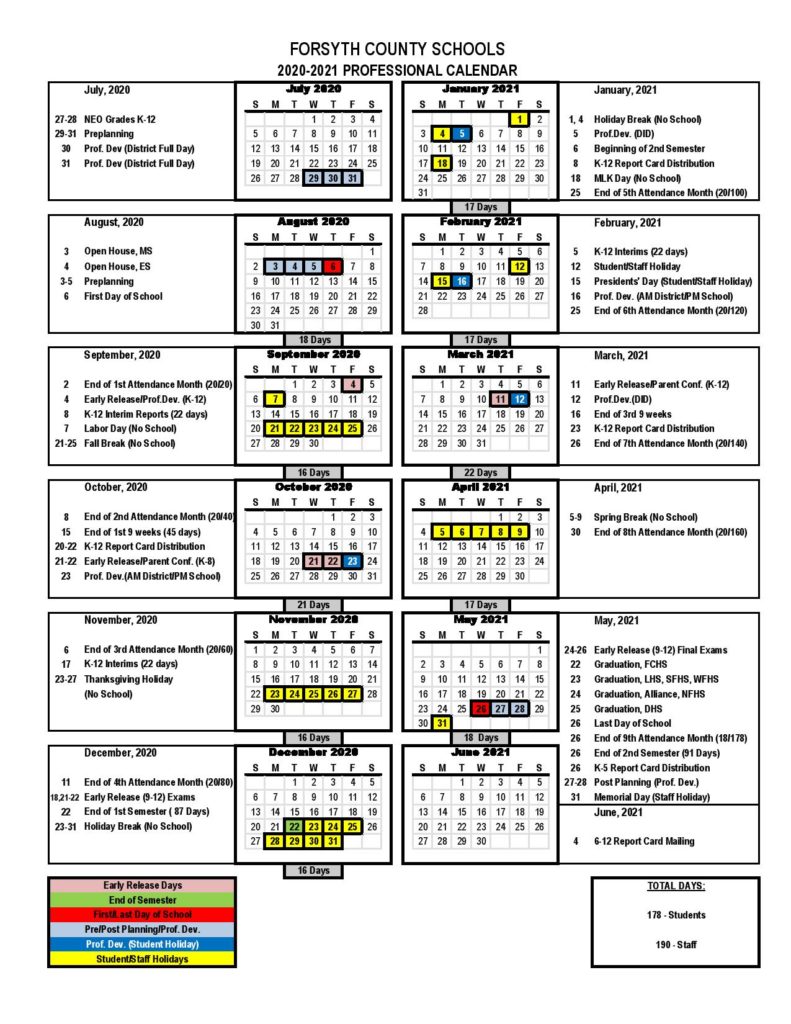 Official Link: Download Here
Important Note: Due to the Global Health Crisis in 2020, a large number of Schools have announced for the School closures. Please check with your School coordinator through Phone/ Email.
It is also important to note that this is not an official website of any school. This is just an informational website that provides holiday information and school calendars. Please visit the official website of your school for more information.