The Manhasset Public Schools Calendar is shared here for the session of 2023-2024. If you are studying or planning to study at the school, then you are in the right place. Here, you can easily get the Manhasset Public Schools for 2023 and 2024. A school is a very important document for the students because in it you can check the major holidays, exam dates, sports events, art events, and other important dates. Download a school calendar and start the process of planning the work activities. Below, you can download the school calendar in PDF and JPG formats.
As per Wiki: The Manhasset Union Free School District, also known as Manhasset Public Schools, is a public school district serving the Greater Manhasset area of Nassau County, on the North Shore of Long Island, in New York. The district is a Union Free School District covering all K–12 grades and is District No. 6 of North Hempstead, New York.
Manhasset Public Schools Holidays for 2023-2024
Keep a check on the major holiday dates of the Manhasset Public Schools Calendar from the table shared below. It is essential to know about holidays if you want to plan them well. Make sure to check out the full school calendar below for complete details, here you can see only the major holiday dates.
School Calendar 2023-2024
School Holidays
Starts
Finishes

First Day of School

5 Sep 2023
(Tue)

Thanksgiving Break

22 Nov 2023
(Wed)
24 Nov 2023
(Fri)

Christmas Break

25 Dec 2023
(Mon)
1 Jan 2024
(Mon)

Mid Winter Break

19 Feb 2024
(Mon)
23 Feb 2024
(Fri)

Easter Break

28 Mar 2024
(Thu)
29 Mar 2024
(Fri)

Spring Break

22 Apr 2024
(Mon)
30 Apr 2024
(Tue)

Last Day of School

26 Jun 2024
(Wed)
Manhasset Public Schools Calendar for 2023-2024 in PDF and JPG
Click on the link shared below to download a school calendar in a pdf format. Make sure to keep a check on the school's official website for all the latest updates and notifications.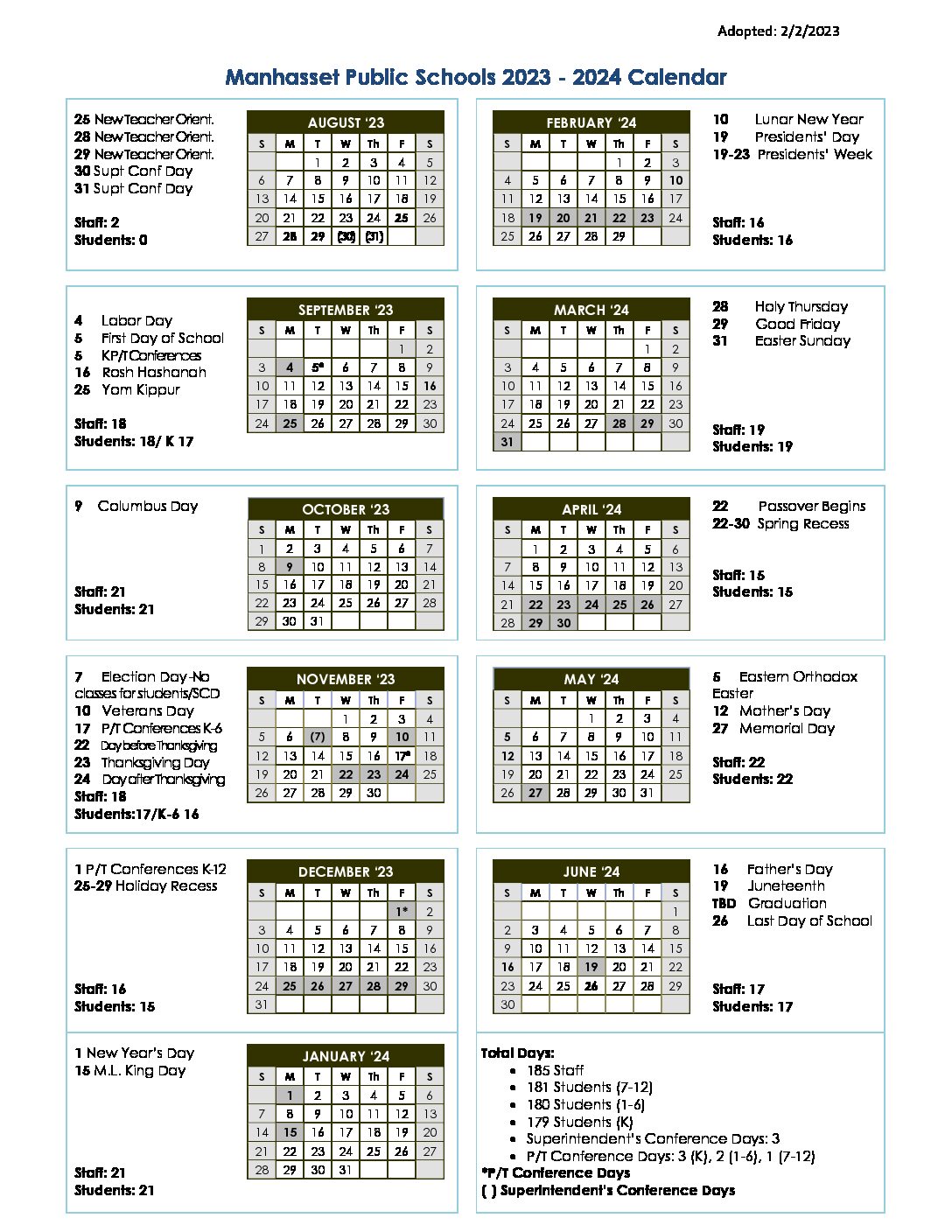 Official Link 2023-2024: Download Calendar Here
Official Website: https://www.manhassetschools.org/
It is also important to note that this is not an official website of any school. This is just an informational website that provides holiday information and school calendars. Please visit the official website of your school for more information.