If you guys are studying in the Manson School District and looking for the calendar, then you are at the right place. Here you can get the Manson School District Calendar for the sessions of 2023 and 2024. You must carry the calendar with you if you want to do well in school in all formats. All the details related to the exams, holidays, events, and other important dates are mentioned in the calendar, so it's very important that you know the important dates in advance so that you can prepare all your schedules according to the important dates.
Manson School District is a very nice and brilliant school. They always focus on their students and try to make them good people, which also helps them improve their skills. The Manson School District is located on the north shore of Lake Chelan in north-central Washington.
Manson School District Holidays 2023-2024
There are many holidays in this academic session, check out the table below to keep a check on the major holiday dates of the Manson School District. Please refer to the complete school calendar below for complete details, here you can see only the major holiday dates.
School Calendar 2023-2024
School Holidays
Starts
Finishes

First Day of School

31 Aug 2023
(Thu)

Thanksgiving Break

23 Nov 2023
(Thu)
24 Nov 2023
(Fri)

Christmas Break

18 Dec 2023
(Mon)
1 Jan 2024
(Mon)

Mid Winter Break

16 Feb 2024
(Fri)
19 Feb 2024
(Mon)

Spring Break

1 Apr 2024
(Mon)
5 Apr 2024
(Fri)

Last Day of School

14 Jun 2024
(Fri)
Manson School District Calendar 2023-2024 in PDF
Below is the Manson School District Calendar preview or image for the years 2023-2024. You can download this calendar in a pdf format by clicking on the link shared in the next section. Make sure to check out the school's official website for all the latest updates and notifications related to the school calendar.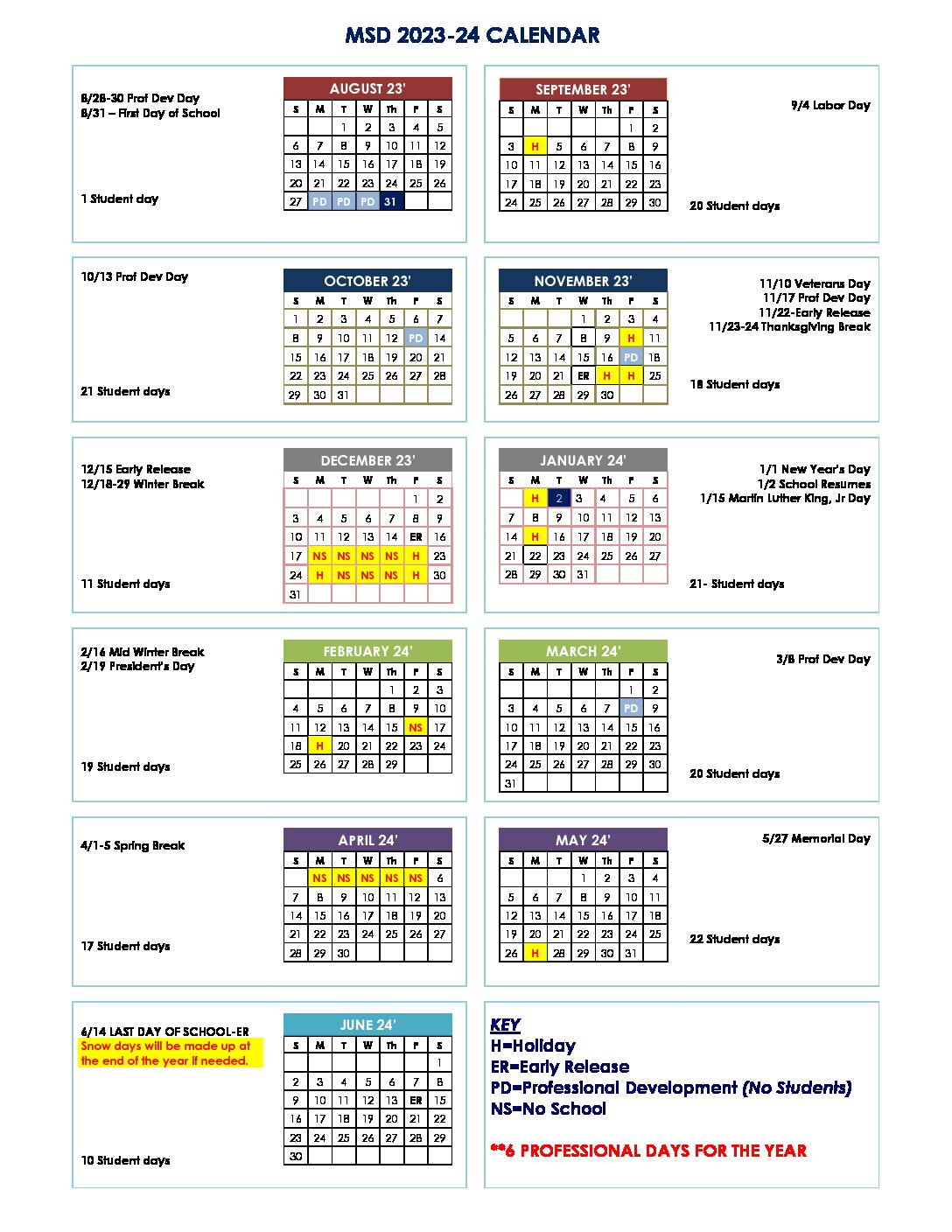 Official Link 2023-2024: Download Calendar Here
Official Website: https://www.manson.org/
It is also important to note that this is not an official website of any school. This is just an informational website that provides holiday information and school calendars. Please visit the official website of your school for more information.