Pinellas County Schools Calendar has released the school calendar for the academic year 2022-2023. A school calendar is needed in order to keep a check on the holidays, first/last day of school, start/end of the semester, and other important details. As a student or teacher, you must download a calendar as soon as it's available on the official website. The school calendar for the academic year 2022-2023 is out now. Below you can see the 2022-2023 approved calendar along with a link to download the pdf version of the calendar. A school calendar contains all the important information that a student must be aware of. For more such useful information you need to check the full calendar shared below.
An academic calendar is a must in order to manage or plan the academic work. As a student, you have a lot of things to do in a day. It becomes nearly impossible to remember everything, this is why it's important to have a proper calendar in order to keep yourself updated about important things. Grab a school calendar from here to keep a check on the important events of this academic year. Apart from that, you can make a monthly calendar for managing your monthly work activities.
Pinellas County Schools Calendar 2022-2023
Check the table below for the major holiday dates of the year. Please note that for a complete original calendar, you need to check out the next section. Here you can see only the major holiday dates. It becomes a lot easier to plan your holidays when you are aware of them. Use a calendar from here to plan your holidays accordingly.
School Holidays
Starts
Finishes
First Day of School
Wed, 10th Aug 2022
Thanksgiving Break
Mon, 21st Nov 2022
Fri, 25th Nov 2022
Christmas Break
Mon, 26th Dec 2022
Fri, 6th Jan 2023
Spring Break
Mon, 13rd Mar 2023
Fri, 17th Mar 2023
Last Day of School
Thu, 25th May 2023
Pinellas County Schools Calendar 2022-2023 in PDF
Here is the screenshot of the original Pinellas County Schools Calendar, the official link to download this calendar is available below. The link of the school's main website is also provided. For any updates, modifications, revisions in the calendar, you need to check the official website of the school.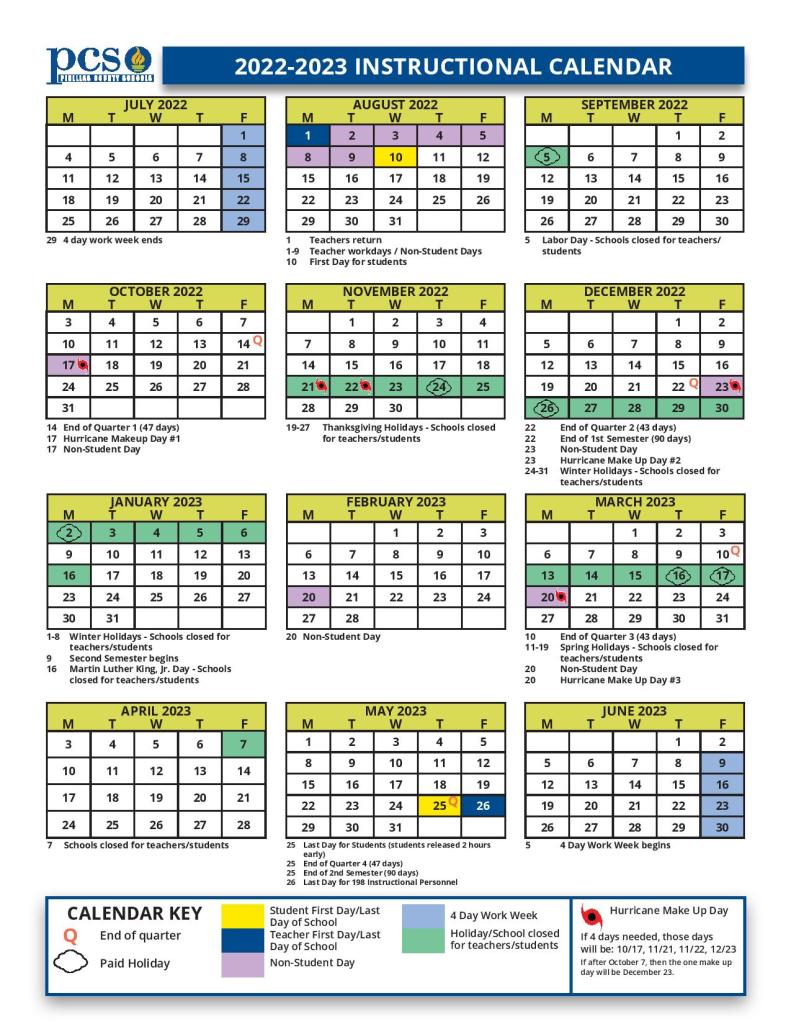 Here is the link to download a calendar in pdf, you can also take the print-out if required. Follow the links below if you want to download a PDF version of this calendar. All the holidays and other important events are mentioned in the calendar below.
School Calendar PDF: Download Here
School Website: https://www.pcsb.org/
It is also important to note that this is not an official website of any school. This is just an informational website that provides holiday information and school calendars. Please visit the official website of your school for more information.